Prepare your mind and body for birth with the Hypnobirthing Australia™ Positive Birth program.
The Hypnobirthing Australia™ Positive Birth program is Australia's fastest growing childbirth education program; with around 150 certified practitioners across the country, and countless happy birth stories from couples.
We spoke to Kathryn Bell, mother of two, doula and Hypnobirthing Australia™ practitioner to find out why the program is so successful.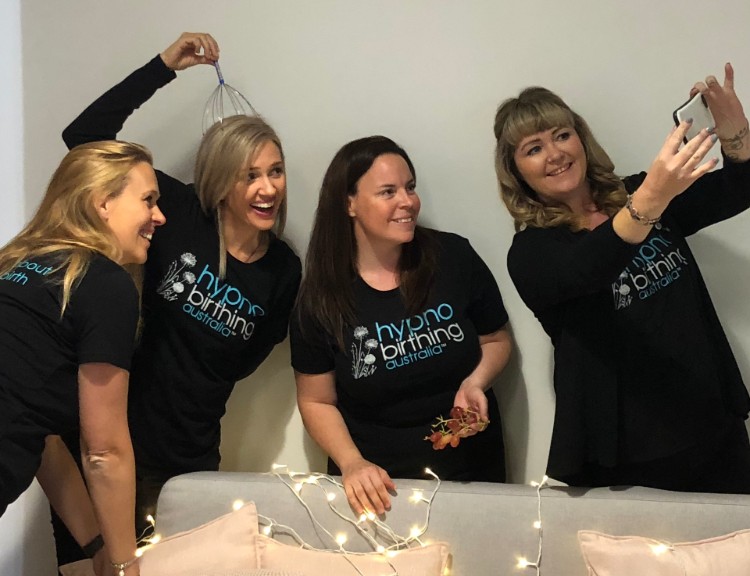 What lead you to teach Hypnobirthing?
I became a Hypnobirthing Australia™ practitioner in 2015 because I could see in my work as a doula since 2012 that the right education made such a huge difference to women's experiences. Just like in
all spheres of life, education is the key. I worked with several couples who used hypnobirthing and it just worked! They approached their births in such a positive way and were able to relax into labour. I gave birth to my second daughter in 2016 and used hypnobirthing to have the most beautiful, easy birth at home.
Can you give an overview of what parents-to-be can expect from the Hypnobirthing Australia™ Positive Birth program?
Hypnobirthing is really just a fancy name for positive birth, the way women are designed to do it when they feel prepared and supported. We give couples a complete, evidence-based toolkit to create their own, unique positive birth story. A calm, confident, safe and even pleasurable birth. They get a solid understanding of how birth works, and all the ways they can help (or hinder) the normal progression of labour.
Parents get the chance to practise with all the tools and watch lots of beautiful birth films of couples who also did the course. These videos are so inspiring because they show just how different birth can be from the way it's so often shown in the media. And, what they take away are really life skills (not just skills for birth). Skills they'll find so useful in parenthood with all the challenges of learning to breastfeed and parent their little ones.
Is the course just for first-time parents?
No, we get lots of second or third-time parents doing the course. Unfortunately, many do the course after a traumatic experience and they're looking to hypnobirthing to overcome the fear that they carry with them, and to do things differently this time. They're often looking for ways that the birth partner can be more involved in supporting and advocating for her. We also run a 3-hour refresher for parents who've done the course before and are preparing to welcome another baby.
What are some of the ways the birth partners can be more involved?
Birth partners can do so much! We remind them that even their voice can be so helpful in labour because it's loaded with love, and so we give them a cheat sheet with helpful prompts to say (as well as practical things they can do) as labour progresses. We show them how they can set up the birth space to help her to feel unobserved and focused in her 'labour land' bubble. They learn lots of practical, hands-on ways to give support. With different types of massage and the key acupressure points if labour slows, or to help her to stay calm and grounded, and to reduce pain.
We also give them guidance on how to support her use active, upright positions that make labour more comfortable and shorter and reduce the risk of damage to the perineum. Even getting into some rebozo with them, so they have some tips if the baby isn't in the best position or she's finding it hard to let go and relax through her contractions.
Birth partners love these tools. They feel more confident having simple, practical things they can do to really help. And, when partners come in to connect with their hands in labour, the whole experience can be so much more loving and connected which is awesome. And, helpful! Because our love hormone, oxytocin, is what drives labour. Love gets the baby in, and out!
Can women use pain relief with hypnobirthing?
Absolutely. We're not about natural birth or nothing. We're about being prepared with quality knowledge, tools and support so that you're in a good position to achieve a natural birth, but equally ready to calmly meet whatever turn your birthing takes. Couples learn about all their options so they can make the right decisions for them if their circumstances change or interventions are suggested. The great thing is that the evidence shows with independent childbirth education like ours, you're far more likely to have a shorter labour and not to need medical interventions or pain relief. It's because of the range of proven tools like self-hypnosis, acupressure, movement, massage etc that make labour so much more manageable and keep it progressing.
What would you say is the number one tool to make labour less painful?
Can I say two? Self-hypnosis and the breath. The two go hand-in-hand. We use self-hypnosis (similar to meditation or mindfulness) to condition ourselves — mind and body. Literally creating new ways of thinking in the brain, by repeating positive affirmations and imagery to
create a rock-solid positive mindset, which is so important. And, then conditioning the body to fully relax and release endorphins (our pleasure hormones) in response to specific cues.
Through the self-hypnosis we also connect with the power of the breath to keep us out of fight-flight mode. It's one of the mother's key tools to stay centred and safe. She can meet each surge of her body and work through each one with a sense of control using what we call surge breathing. We actually teach three specific breathing techniques for the different stages of labour — relaxation and surge breaths for first stage (or opening up to 10cm dilation), and bearing down breaths for second
stage (pushing).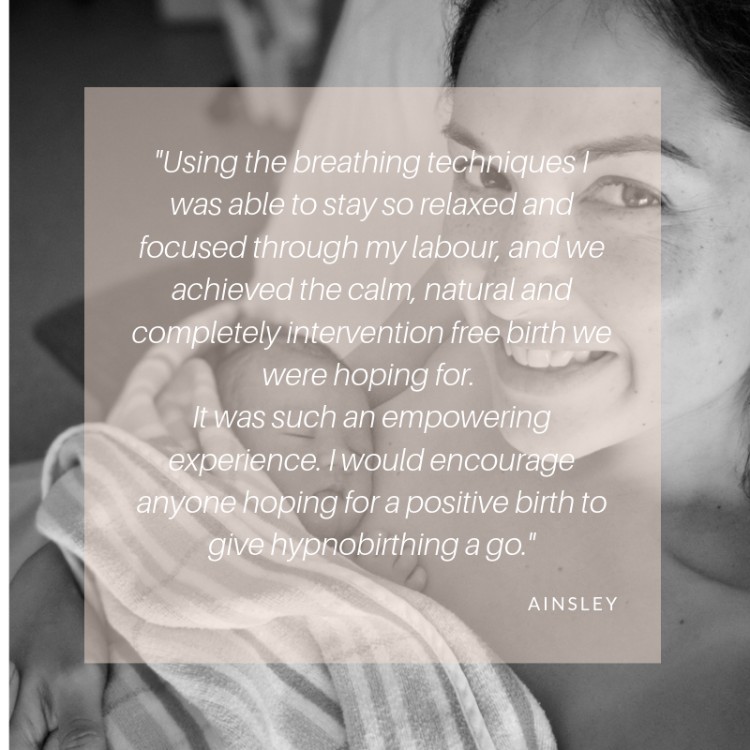 The name hypnobirthing puts some people off, thinking it's a bit 'out there'. From your perspective, what's hypnobirthing all about?
That's true. Some people think hypnobirthing is just about the hypnosis element and staying quiet or still. Or, that it's just for hippies. Or, even that women using hypnobirthing might be out of it and not in control of themselves. Those things couldn't be further from the truth.
We show women that they actually have all they need within them, to give birth more comfortably and to avoid intervention (unless medically necessary). The trouble is that in our society, fear and negativity about birth dominates, and birth is increasingly becoming over-medicalised.
This is why self-hypnosis gives our program the edge. Women learn to use self-hypnosis to relax deeply and reprogram the way they think about birth and their body. This preparation of the mind enables them to connect with their innate skills and instincts for birth, and to embrace the
experience of labour. By releasing fear and limiting beliefs they can get into (and stay) in that beautiful, inward 'flow' state that women have always accessed thanks to the powerful, pain- relieving hormones of transcendence, beta-endorphins. Mind over matter. Just like with top athletes. They see it over and over in their mind, really believe they can do it, and support that belief with everything they do in the lead up. The edge really is in the mind.
When is the best time for couples to attend?
Anytime between 22 and 36 weeks, but the earlier the better. Any big event in life goes more smoothly when we feel confident, and that confidence comes with preparation and practise. A positive birth isn't a matter of luck. That doesn't mean you can't come to the program later and use the tools to great effect. Nothing like a deadline to focus the mind! The other good thing about doing the course earlier is that we discuss all the options and choices women can make about their care. Using this knowledge to make informed decisions and communicate clearly with their caregivers is really empowering. Sometimes women even decide to change caregivers or birth place, when they realise that their chosen caregiver isn't on the same page or if the hospital doesn't support their choices e.g. to use water immersion for pain relief / water birth.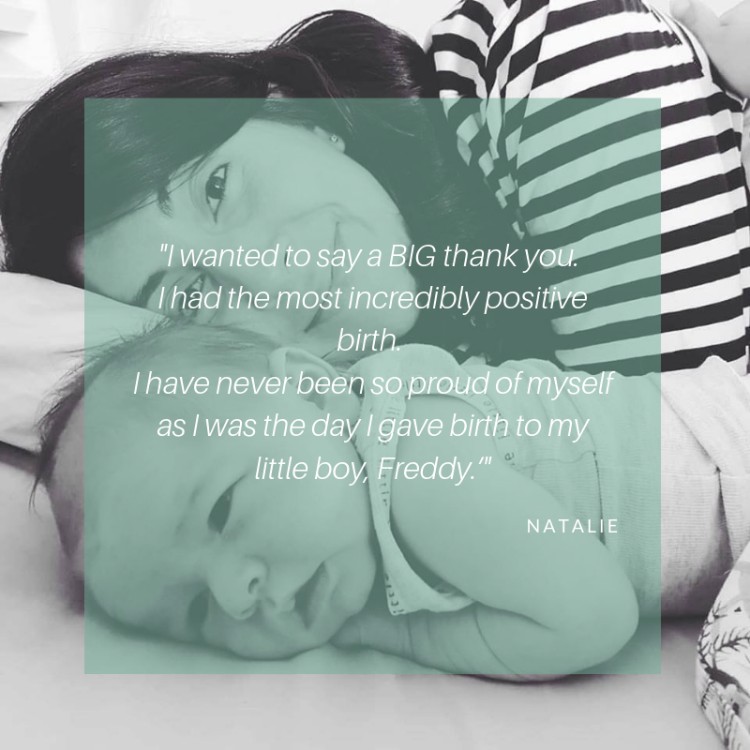 How can couples do a Hypnobirthing Australia course?
There are lots of options. Coming together with other couples to learn in a group setting with a certified practitioner is the best option because you get that guidance and benefit from others' questions.
Here in Sydney we have 11 of us:
Northern Beaches — Kathryn Bell, Julie Velina, Natalie Andrew and Katie Kempster
Inner West – Kerry Sutcliffe and Kate Fraser
South Sydney – Georgie Jhet
Western Sydney – Tina Pullen, Claire Nash and Jaime Hawkins
South Western Sydney – Christa Buckland.
Finding the closest practitioner is easy via the directory on hypnobirthingaustralia.com.au. We all offer private, one-to-one tuition as well, for couples who can't make it to a group course or who prefer to learn in the comfort of their own home. There's also the Hypnobubs online course available in a number of packages, including Premium, where they get to spend 90-minutes with a certified practitioner for a tailored follow-up session.
Any final tips about preparing for giving birth?
As I said in another article for Healthspace, I always encourage women and their partners to replace their fear or doubt with curiosity. Curiosity about the spectrum of birth experiences, and particularly what underpins the positive. Checking out the beautiful Hypnobirthing Australia™ birth videos and stories is a really good place to start. Seeing and hearing other people's stories helps so much to see the all possibilities and to start to realise all the ingredients of a positive birth — knowledge, tools, support and preparation.
Looking after yourself physically in pregnancy really helps with ensuring the body is well aligned and powered up for birth, but also in creating that positive mindset because of the strong connections between the gut and brain. And, we really need to start our postpartum feeling strong, not depleted. We cover nutrition and exercise in pregnancy as critical parts of preparing the mind-body in our course, and we recommend connecting with health professional like all the wonderful team at Healthspace for support.
And, don't forget what happens immediately post-birth. The magical first few hours after birth are so important in establishing a strong bond and breastfeeding through the 'fourth trimester'. Again, we cover how to optimise what happens for the mother, baby and whole family at this incredibly special time in our course, but also recommend exploring other resources and education in pregnancy.
About Kathryn Bell
Kathryn is an experienced birth and postnatal doula and childbirth educator. As a doula, she supports couples throughout pregnancy, birth and postnatally to feel calm, confident and prepared for all the challenges of birth and early parenting. Before birth she helps couples to explore all their options, based on up-to-date information, and shares tips for coping with labour and establishing breastfeeding. This time is also about getting to know each other so they can gel and work really well as a team. During labour, Kathryn is there to give physical and emotional support to both parents, helping to create the easiest, most comfortable, safest and most beautiful birth experience possible.
Kathryn teaches regular Hypnobirthing Australia Positive Birth courses at BUMP Health & Fitness in Dee Why. Beyond her birth support work, Kathryn is mum to two girls and loves picnicking, pottering in the garden, bush walking and lazing about at the beach.
www.kathrynbellbirthsupport.com.au | 0450071503 |kathryn@kathrynbellbirthsupport.com.au