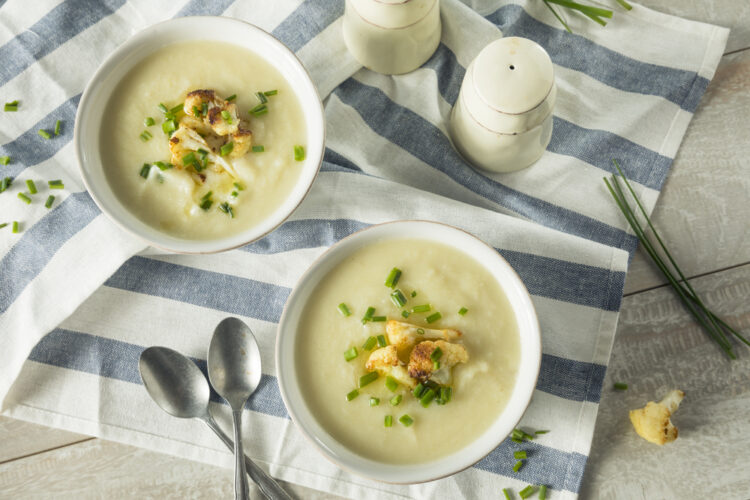 A gluten/dairy free soup, perfect for cold days and easy to prepare, brought to you by Nutritionist, Naturopath and Herbalist, Pamela Nelson.
Ingredients:
I head of cauliflower
1 large or 2 small leeks sliced
2 cloves of garlic
2 TBS of extra virgin olive oil
Pinch of Himalayan salt and black pepper
1 litre of home-made or organic vegetable stock (e.g. Massel)
Method:
1. Slice cauliflower into small bits
2. Sauté leek and garlic in olive oil over a low/medium heat for about 3 minutes until soft
3. Add cauliflower, salt and pepper and sauté for a further minute
4. Pour stock over, cover and simmer over a low heat for 10 minutes until the cauliflower is soft.
5. Remove from heat and puree
6. Add more water if mixture is too thick
7. Return to pan to warm through
8. Serve in large bowls
If you do not have strict gluten/dairy free requirements you can add a dollop of yogurt (coconut or dairy) or some grated parmesan, feta, or tasty cheese if desired and serve with gluten free toast or crusty bread of choice and enjoy.
Some reasons why this soup is good for you:
Cauliflower- is rich in Vitamin C, Vitamins B5 & B6, folate & biotin, Vitamin K, choline, phosphorus, manganese, plus bioflavonoids, it has anti-cancer properties & is a good source of dietary fibre; Leeks contain kaempferol (anti-cancer) & Vitamins K, B6, A, C, E & folate, plus copper, iron, manganese, calcium and fibre, and omega-3 fatty acids. Also good for cholesterol and blood pressure management; Garlic- (allium family)is rich in Vitamins B1,B6,C , plus manganese, selenium, phosphorus, and copper, & protects against cancer and CVD, antifungal, antimicrobial, stabilises blood sugar. Black pepper – anti-inflammatory /aids digestion/ assists nutrient absorption. Olive oil- anti-inflammatory, antioxidant, healthy fat.