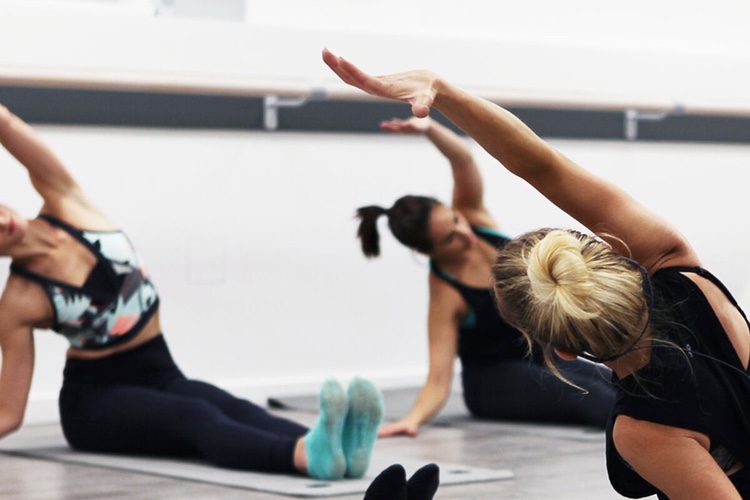 To celebrate the impending opening of the beaches newest state-of-the art fitness studio, Xtend Barre Dee Why, we asked owner, Liz Nable to crush some of the long held myths about barre workouts and why it's such an amazing full body workout.
5 THINGS YOU NEED TO KNOW ABOUT XTEND BARRE BEFORE YOU TRY IT!
You DON'T have to be a dancer
The beauty of Xtend Barre is all the classes are multi-level, so whether you're super fit or completely new to fitness, you will still get an amazing workout. The goal in each class is to improve your form and strength and to be able to do more of each exercise. So as you get better, the exercises actually get harder, because you're performing them with the correct technique! This means your body is constantly being challenged and when you're challenged – you get RESULTS!
It's HARD but FUN
Do not be fooled by the half-kilo weights! Xtend Barre is the opposite of traditional, old school weight training. We emphasise the importance of light weights and lots of reps, so that half-kilo weight feels like a 100-kilo sandbag in no time! Our classes are taught by highly trained instructors who focus on form, engaging the core muscles correctly and isolating those exact muscles you're targeting in a specific exercise. We work them to fatigue, then move to the next muscle group. You will be sore in places you never knew existed!
It WORKS
Xtend Barre is like no other class you have done before. Ever.
It challenges your strength, cardiovascular endurance, coordination, flexibility, and balance to give you a comprehensive, full body workout. Most people have never trained like this before – using the strength and conditioning principles of a professional dancer's training – you'll transform your body in no time.
You'll get ADDICTED
This is a given. There is something about the combination of great music, no two classes being the same, the one-to-one attention from your instructor, with the energy of a small group training environment that gets people hooked on Xtend Barre from the first time they try it! Xtend Barre takes the hard part out of exercising. All you need to do is turn up and we'll take care of the rest.
You'll discover the secret to regular exercise and achieving REAL RESULTS
At Xtend Barre, we know that boredom is one of the main reasons most people aren't good at sticking to a regular exercise schedule. You start something, it's new and exciting, then…within weeks, it's not anymore. The secret to maintaining a regular workout regime and getting amazing results is finding something you LOVE. Something that constantly challenges you and changes you. When you find something you love, you want to do it often, and when you do something often, that's when you get the best results.
Xtend Barre Dee Why would love to offer all Health Space clients our exclusive, BEST EVER Foundation Rate if you sign up to a membership during our pre-sale event.
To register your interest please email your full name, email and best contact number to:
Deewhy@xtendbarre.com.au and we'll be in touch when our Foundation Memberships become available!