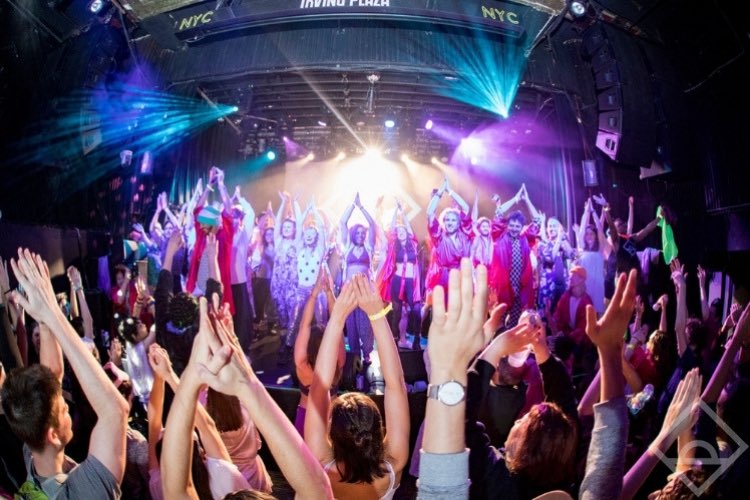 A Morning Rave? Yes please!
Despite the seemingly contradictory concepts of wellness, raving and early morning starts, Daybreaker has combined the three together to incredible success, with their Daybreaker morning dance parties. Founded by Radha Agrawal in New York City in 2013, the movement has turned into an international phenomenon, with wellness, community, music and magic directing it's worldwide events.
Personal trainer and former music industry manager, Kristen Marconi, has teamed up with Geoff Homma to bring the wellness and dance sensation to Sydney, and Health Space is delighted to be sponsoring Daybreaker's inaugural Sydney event! To introduce you to Daybreaker, we've interviewed Kristen (who happens to be a long-term client of Health Space) to get the low down.
Want to join the festivities? Daybreaker has given Health Space a special launch link for all clients for the chance to win extra prizes and bonuses! Use this link to checkout!
HS: What is Daybreaker?
KM: Daybreaker is a wellness community event where you wake up and dance! We start with 1 hour of yoga, set to a DJ flow set, followed by 2 hours of dance with many surprises and performances. For Sydney's launch session, we are holding it at SEA LIFE Sydney Aquarium, and the theme is Mischief on the Reef – so we can dance under the sea and amongst the fish!
HS: Why did Daybreaker need to come to Sydney?
KM: We need more human connection in our lives and we wanted to create wellness experiences that create friendships. Community is so important. Why do we always have to socialise with a drink in our hand? Where do we meet people where we can do something healthy together? We felt we needed a way to socialise and make connections in a way that didn't include drinking, mean bouncers, drunk people and no-one dancing on the dance floor. Daybreaker is a wellness movement in 25 cities and there are so many beautiful stories of people meeting, becoming friends and even finding partners in the 5 years since Radha Agrawal and her friends started Daybreaker in NYC. We want to give this to Sydney's wellness community so more of us can connect and have fun. Dance floor connections for the win!
HS: What can we expect?
KM: SEA LIFE have come on as venue partners, so we'll be flowing and dancing amongst the fish and underwater. The dress code is 'colours of the reef' – so expect to see lots of colourful, jiving and flowing bodies! We start with 1 hour of yoga, so we can connect with ourselves and our bodies, led by Power Living instructor Jordan Burger, then move into 2 hours of dance experience with emcee Elliott LaRue from NYC flying in for our first event. We have some epic performers and instructors partnering with us – we have Night Tales headlining the dance section, Deep House Yoga Project DJing during yoga, plus heaps of special performances and surprises to delight and entertain! We've also catered with lots of wellness snacks and goodies to go out, so you won't go to work hungry or empty handed.
The yoga starts at 5.30am for an hour, and the dance section starts at 6.30am, finishing up at 8.30am. H2COCO, Applelachia, Power Living, General Assembly, BeatBody and more are involved in making this an awesome experience for everyone on our under the sea dance floor.
HS: Speaking of going to work… isn't 5:30am a little early to yoga and rave? Some of us like a sleep in! Why is it important to have the early start?
KM: Sure, it's an early morning, but it's the best possible way to start your day! Daybreaker starts your day with high vibes, energy and intention, and pumps you up like no shot of coffee or early morning gym session can. Arrive as strangers and leave as a connected community, and see what happens when you say yes and keep showing up to the opportunities in life.
HS: How can people get involved? We want to dance our way into our work week!
KM: All information can be found at this link, such as tickets, social media, videos, our community forum, more information about Radha, and more!
HS: Thank you so much Kristen, we look forward to joining you on the mat and on the dance floor! Are there any parting comments you wish to make?
KM: Music has the power to tear perceived barriers down and allow people to connect like no other. Combining this with fitness & wellness experiences is my found purpose and passion. So excited to bring this to Australia!