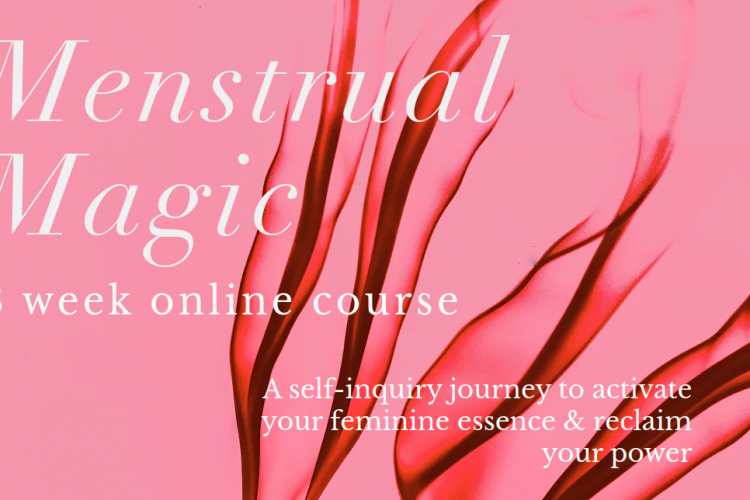 A self-inquiry journey to activate your feminine essence & reclaim your womb power
The magic of your menstruation cycle can be found through a practice called Menstrual Cycle Awareness (MCA), also known as the "Inner Yoga for Women". It's a daily mindfulness practice, the medicine to your menstrual symptoms and the activation of your feminine essence. 
Women in their menstruating years have a hormonal cycle of ~28 days, moving through four unique phases, just like the moon. Men have a 24-hour hormonal cycle — just like the sun. 
Let that settle. 
We operate differently to men! Female reproductive hormones have an influence on our energy levels, brain function, emotions, libido, creativity, dietary needs, intuition and so much more.
We can try to show up the same every day, like a man, but this is at the cost of numbing our feminine essence. Or, we can choose to honour our feminine rhythm and benefit from trusting our bodies; feeling effortlessly balanced while experiencing health and wellbeing. With this, comes self-love and acceptance. 
This 8-week course is designed to awaken the magic & power that's already within you.
You will:
Learn your reproductive anatomy and biochemistry 

Understand how the menstrual cycle is so much more than the event of bleeding

Unravel the programming & conditioning that disempowers & disconnects us from self & others 

Re-frame your relationship with menstruation 

Explore a daily mindfulness practice, Menstrual Cycle Awareness (MCA) 

Gain a practical understanding of how to organise your social life, work tasks, exercise routine & diet to optimise each phase in the cycle 

Receive a tool kit of feminine embodiment practices, self-care & rituals to connect to your feminine essence & support yourself in the most nurturing way  

Explore the magical gifts within each phase of the menstrual cycle, including PMS

Understand what it means to listen to your womb wisdom
The next course begins 10 January 2021. 
For the course details click here. https://www.jaimelauren.coach/menstrual-magic-course 
Investment 
Early bird price $222  –  Sign up before 31 Dec 2020
Just in time $270  –  Sign up before 9 Jan 2021
Meet the facilitator Jaime Lauren
Jaime is a Holistic Menstrual Coach, Fertility Awareness Method Educator and Womb Yoga Teacher. She educates women how to live in sync with their menstrual cycle for physical, emotional and spiritual wellbeing. She teaches women how to read their body signs (biomarkers) as a way of managing their reproductive health and fertility naturally (to avoid, or achieve pregnancy).
As a Yoga Teacher and Tantra Sacred Dance Facilitator that has explored these practices and beyond to accommodate the female body, she offers female embodiment practices, Womb Yoga and feminine meditation. With each practice she brings women into closer connection with themselves and their womb power. 
Through this work, she often connects with women who have hormonal imbalances, missing cycles, reproductive health issues (PCOS, Fibroids, Endometriosis), want to come off hormonal birth control, and much more. These offerings and practices she offers support women on their journey to holistically healing their concerns.