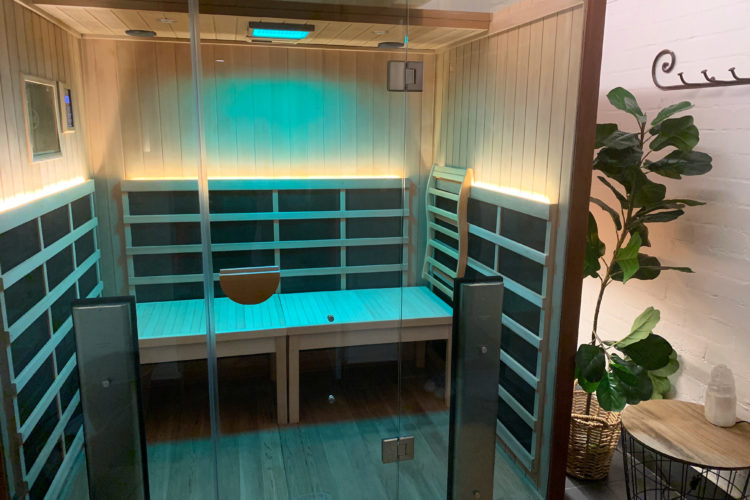 WHAT IS AN INFRARED SAUNA
A traditional sauna uses convection and conduction to heat the surface of your skin. Infrared saunas, however, use infrared heating panels that emit light helping your body to detoxify, giving users a deeper cleansing experience. The infrared light can't be seen by the naked eye but it gives off what's called radiated heat, penetrating deep within your tissues, muscles and cells. Unlike traditional saunas, the air in an infrared sauna is a lot drier making it easier to breathe. This form of slow heating makes infrared saunas a much more comfortable experience than a traditional one.
These deeply therapeutic saunas were developed in the 70's in Japan and have been continuously refined since.
Infrared heat is all around us and you have felt it from sources like fire, heated sand on the beach and the sun (without the harmful ultraviolet waves that the sun gives off). Just as visible light has a range of wavelengths (running from red to violet), so does infrared light: longer wavelength infrared waves are thermal, while short or near infrared waves are not hot at all, in fact, you cannot even feel them. It is the far infrared energy that is most beneficial, penetrating the skin and increasing circulation to help rid the body of harmful toxins. Near and mid infrared enhance the benefits of far infrared.
BENEFITS OF REGULAR SWEATING INCLUDE:
WEIGHT LOSS & INCREASED METABOLISM
According to the Journal of the American Medical Association, regular use of a sauna imparts a similar boost on the cardiovascular system to running. As you relax in the gentle infrared heat, your body is hard at work producing sweat, pumping blood and burning calories.
As your body increases sweat production to cool itself, your heart works harder to pump blood at a greater rate to boost circulation. This increase in your metabolism will burn calories.
MUSCLE PAIN RELIEF
Increased blood circulation carries off metabolic waste products and delivers oxygen-rich blood to oxygen-depleted muscle, so they recover faster.
Muscles relax best when tissues are warm, for greater flexibility and range of motion. Far Infrared heat relieves muscle tension and the deep heat of far infrared saunas help peripheral blood vessels dilate, bringing relief and healing to muscle and soft tissue injuries.Infrared heat also reduces soreness on nerve endings and muscle spasms as muscle joints and fibers are heated.
IMMUNE SYSTEM BOOST
The deep heating from the Jacuzzi Sauna True Wave II™ infrared heaters will raise your core body temperature, inducing an artificial fever. How does this benefit the body? Fever is the body's natural mechanism to strengthen and accelerate the immune response, as seen in the case of infection.
This enhanced immune system, combined with improved elimination of toxins and wastes via intense sweating, increases your overall health and resistance to disease.
DETOXIFICATION
One of the biggest infrared sauna health benefits is its ability to increase your blood circulation and stimulate the sweat glands, releasing built-up toxins in the body.
Daily sauna sweating can help detoxify your body as it rids itself of accumulated highly toxic metals (lead, mercury, nickel, and cadmium) as well as alcohol, nicotine, sulphuric acid, and other organic and inorganic compounds.
IMPROVES APPEARANCE OF CELLULITE
Cellulite refers to superficial pockets of trapped fat, which cause uneven dimpling or "orange peel" skin. It appears in 90% of post-adolescent women and is rarely seen in men. Common but not exclusive areas where cellulite is found are the buttocks, thighs, and the abdomen. Contrary to popular belief, cellulite is not related to obesity, and the appearance of cellulite is not always reduced by weight loss.
Since the far infrared radiant heat of  our infrared sauna warms three times as deep as conventional saunas, it is significantly more effective at reducing cellulite. There is a direct link between the slowing of metabolic rates and the storage of toxins in fat cells. Sauna use and far infrared heat can increase heart rate and localised blood circulation, which essentially reverses the above-mentioned trends towards the accumulation of liquids in the fat cells to reduce the appearance of cellulite.
EASE JOINT PAIN AND STIFFNESS
Time spent in an infrared sauna benefits patients suffering from many forms of arthritis. Radiant heat has also been effective in the treatment of sprains, neuralgia, bursitis, muscle spasms, joint stiffness and many other muscular-skeletal ailments. Much of the stiffness, aches and soreness that comes with aging is reduced or eliminated.
ANTI-AGEING
Near infrared has been shown to reduce the appearance of fine lines and wrinkles in your skin. Sweating improves blood circulation as well as skin elasticity, tone, texture and firmness – it also helps unblock pores and reduce blemishes. A weekly infrared sauna session will leave you glowing and the more you sweat the better you'll feel.
SKIN HEALTH
You need to be kind to your skin, after all, you will be living in it for your entire life. Regular sweating allows your body to detoxify nasty chemicals, pollutants and dirt lodged within the dermal layer. Studies have shown that the average person is exposed to 700,000 toxins a day, scary right?
Infrared heat increases the blood flow and brings essential nutrients to the surface of the skin – allowing your body to naturally glow. Regular infrared sauna sessions have also been shown to improve skin conditions such as cellulite, acne, psoriasis and dermatitis. Get glowing people!
STRESS REDUCTION & SLEEPING
One of the biggest benefits of an infrared sauna is relaxation and the chance to de-stress. People today live busy lives and we are now under more daily stress than ever before. An infrared sauna session can not only help you unwind but it also decreases the production of cortisol, the main hormone for stress in the body. If you've had a rough day there's no better place to be than an infrared sauna, plus it will help you sleep a little better.
Infrared saunas that integrate chromotherapy or light therapy (like ours!) have also been shown to potentially support symptoms of seasonal depression. The therapeutic applications of light and colour are being investigated in major hospitals and research centres worldwide.
The Yoga Sauna by Clearlight is now available at Health Space Kings Cross as well as the 2 person Sunlighten sauna.
PH: 02 8354 1534
We have infrared saunas also available at our Bondi Junction, Rozelle & Mona Vale locations.