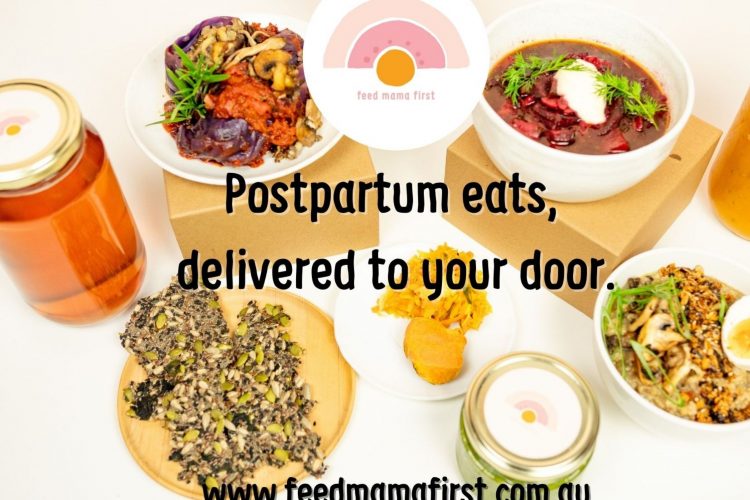 Feed Mama First is a postpartum meal delivery service based on the South Coast created and curated by two mums, Courtney, a postpartum doula & Lauren, a qualified chef. 
After both becoming mums in 2019, and with no immediate family nearby for either of us, we quickly realised there was a gap in the "village" for other mamas who, like us, had no one dropping off ready-to-eat meals & snacks after their babes were born.

Hence the idea for Feed Mama First was hatched.

We aim to provide new mamas nutritious meals and snacks to support and nourish during the postpartum period.

Our goal is to nurture mamas with nutrient dense, wholefood based menus, during this unique time of healing, recovery and relationship building with their new little person.

All of our offerings are carefully curated to fuel mamas during their transition into life at home with a new baby, all conveniently delivered to their door.

Our meals and snacks are jam-packed full of nutrients that are specifically needed during postpartum recovery, designed to nourish, satiate, rebuild and replenish all that is lost through birth and the period immediately after. 
We change our menu seasonally to ensure maximum nutrition is obtained from in-season produce. All items are made from scratch weekly in our commercial kitchen space in the ever-so-scenic coastal hamlet of Gerroa. 
Customers can choose from pre-prepared meal & snack packs or can choose-you-own-adventure from our Build Your Own Pack menu and add to cart what their heart really desires. We also have an ever growing collection of preconception, pregnancy & postpartum products to support the modern mama which can be purchased stand alone or added to any order.
Our offerings are also an excellent practical gift for those who have a pregnant woman in their life, especially for those who don't live close by to give hands on assistance.
Our delivery zone encompasses the area from Jervis Bay to the Sydney metropolis. We can also cater to customers in the Blue Mountains & Central Coast (additional shipping fees apply). 

Let us take away the stress of preparing nourishing food during this time so you can focus on what's really important – getting to know that new human you just made!

We look forward to feeding you and would love to offer a special discount for all Health Space Clinic newsletter subscribers. Using the code HEALTHSPACE at checkout will provide a 10% discount on all orders placed during the month of September.
https://www.feedmamafirst.com.au/