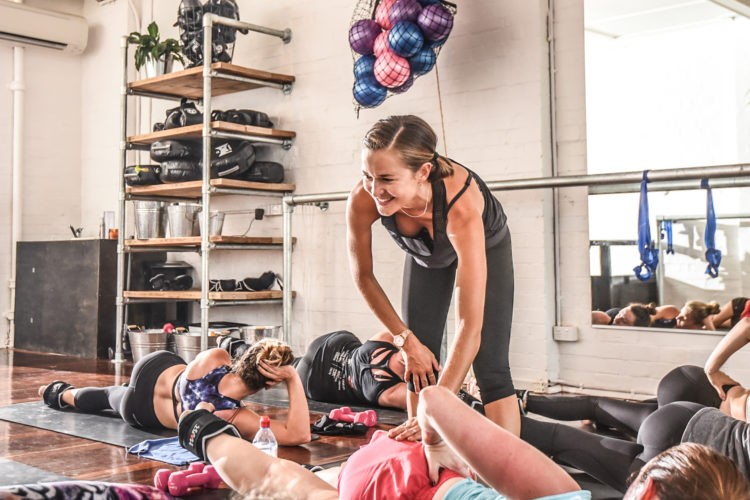 What's Lean Bean Fitness all about?
Fun, un-intimidating female fitness. All classes are based on continuous functional body weight movement with plenty of variety combining Pilates, Barre, Hiit and strength training.
What would you say are your signature workouts?
Our signature workouts include BarreBeans, PowerBeans, BeanStrong, BeanBod (pilates), PregnantBeans and BabyMummaBeans (BYO babies).
We heard that you're moving locations! Where's the new location and when are you moving?
Yes! Just up the road from our current spot in Bondi Beach, we'll be newly situated at 178 Campbell Parade. Just across the road from the beach and amongst some of Bondi's best shops and cafe's. We're so excited!
We also heard there'll be coffee?
Ha, you heard right. For opening week (April 1-5) we're buying everyone pre/post class a Sonoma coffee of your choice. Available for pre 11am'ers so you're not up all night with a caffeine buzz 😉
What are your favourite exercises to do?
Squats, lunges and burpees.
Who is Lean Bean Fitness suitable for?
All women looking to increase their fitness, feel more confident in their bodies and enjoy exercising. We have all levels of fitness at the studio and we pride ourselves on offering a range of exercises & alternatives to suit each individual. Everyone's at a different stage so we make sure you're focussing on your personal progress rather than those around you.
Which class do you recommend for a newbie to exercise?
Any of our classed are suitable for newbies but i would probably suggest BarreBeans. Although Barre is by no means easy, having the 'barre' to hold on to is comforting and supportive always there if you need it.
Tell us about your Lean Bean Retreat! When is it on?
October 18-20th 2019
We've ran Lean Bean Retreats twice yearly for the last few years which have been a huge hit and we see many repeat visitors. They are affordable, luxury weekends away and under 2 hrs drive from Sydney so accessible for women needing a little reset, with exercise, an abundance of healthy food and relaxation treatments from Lydia Feng (Health Space Clinic specialist!) as the main itinerary.
*Early bird bookings before April 1st receive $100 off. Only a few spots remaining. Email admin@leanbeanfitness.com for bookings and enquiries*