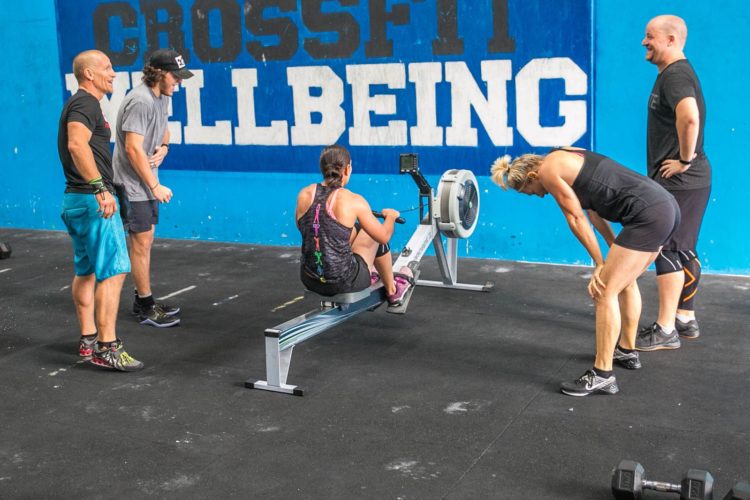 Can you tell us a little bit about Crossfit Wellbeing?
CrossFit Wellbeing was established in 2012 and has cemented itself as a first class training facility, all while keeping in touch with its members in a fun and family oriented way. The focus here is on helping individuals improve their quality of life . We get bodies moving the way they are supposed to which is why anyone who comes in for a workout stays!
Our coaches have varied backgrounds and specialties, which creates a diversity of coaching and professionalism that is unmatched
 Do you have to be an experienced gym goer to participate in the classes?
No! We are able to cater for every individual's goals, needs and physical limitations!
Do you have different classes for different abilities/levels?
 We have various programs all of which cater for all levels.
CrossFit is our core program which is general strength and conditioning for fitness and Performance
Health – Similar to CrossFit, it is Strength and conditioning program for all levels. This grew from an ages 45+ program on of our most popular programs for people new to training.
OPEN Gym – WHEEL HOUSE
This program is designed to improve your cardiorespiratory system, combining short , medium and long workouts designed to hit all energy systems and greatly benefit your aerobic capacity.
OPEN Gym – SWOLE FIT
This program is designed as an accessory work to the CrossFit program. Dedicated to body building exercises and methods, it's the perfect program for those looking to develop strength, improve athleticism and prevent injury.
Personal training – * One on One & Two on One services
This includes a trainer spending all the time concentrating on you while tailoring the sessions to your specific goals and abilities. You are the centre of attention and this ensures the most effective results with progression at your pace. You will be motivated to perform exercises along with following the right diet to gain the body you want. Personal training also includes Nutritional Advice & Meal Plans, simply exercising isn't enough to achieve your fitness goals. In order achieve maximum results in the expected time period we ensure you get this dialled. We also have pre prepared meals from Core Power foods you can purchase from the gym to make sure you are getting the nutrition you need.
 What can someone brand new to CrossFit expect in his or her first few
sessions?
The coaches pay extra attention to those who are starting out. We ensure you are building up correct safe and consistent movement patterns before progressing to any loaded or move advanced movements. Starting out we encourage everyone to operate within their physical and psychological capacity.
 How did you get into the industry?
 I went through a life-changing journey of my own. In 2007 I was 5'8 – 99kg – Smoked 40 cigarettes a day, drank so much bourbon and coke it created market shortage. By the end of 2008 I was down to 71kg. When speaking with current and new members seeking to improve their health and fitness, I honestly get how hard it is. 
I got involved in the fitness because I wanted to make a difference in people lives the way I was able to change my own.
 What are 3 tips that you would recommend for anyone thinking about getting into CrossFit?
Suspend any pre conceptions of what you think it may be, and come and experience it for yourself! 
When starting commit to at least 3 times per week for 3 months
With that our singular focus on work capacity, we can avoid chronic disease and there is nothing really to worry about. You have the lifestyle answer. Make it to the gym, eat like we tell you, and enjoy yourself.  This community is doing a lot of good things on a lot of fronts. Our gym is thriving not only because of our impact on chronic disease, they are thriving because the customers, are extremely happy with the transformation. And it is part physical, part emotional, part health markers, part relationships. That is the miracle of CrossFit: people are getting something that they did not even know they wanted or needed.
 Have you got any events coming up? Open days?
We are currently running a free week trail for unlimited classes here is a link to register.
http://www.crossfitwellbeing.com.au/