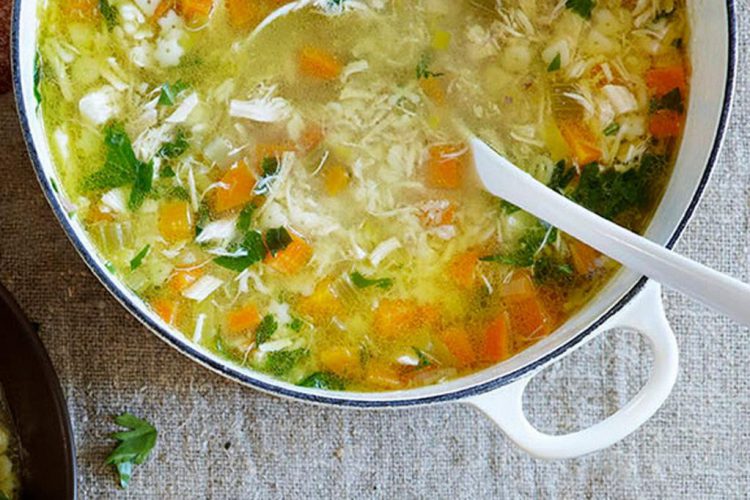 Winter is all about nourishing your body and boosting your immune system to combat these colder months. Try this immune boosting soup once a week to keep colds and flus at bay. If you start to feel a little under the weather it's time to cook this magical soup up and nourish your body and boost that immune system.
What you need:
4 organic chicken thighs, works best with the bone in and skin on
2 onion, chopped
2 carrots, chopped
3 celery stalks, chopped
1 zucchini, chopped
2 onion, chopped
10 cloves garlic, crushed ?(1 whole bulb)
2 tablespoon finely grated ginger
1 tablespoon fresh grated turmeric or 1/2 teaspoon ground turmeric
1/2 teaspoon sweet paprika
2 litres organic chicken bone broth
2 bunches coriander, chopped
sea salt and freshly ground black pepper to taste
1 tablespoon coconut oil
1 lemon, juiced
4 tablespoons apple cider vinegar, raw and unfiltered
How to do it:
Melt the coconut oil in a large pot, place the chicken, onion, carrot, celery, zucchini and fry for a few minutes.
Add paprika, pinch of salt and pepper, give it a good stir and simmer for another couple of minutes.
Add the broth, bring to a boil then simmer and cook on a low heat for 2 hours.
Add in the garlic, turmeric and ginger cook for another 10-15minutes once flavours have infused.
Remove the chicken from the soup, pull the meat apart and discard the bone, then add the meat to soup.
Stir through the coriander and taste to see if it needs any additional seasoning.
Remove from heat, add the lemon juice and add the apple cider vinegar one tablespoon at a time, stir and taste until you reach your preference. I like 4 tablespoons.
Then enjoy this deliciousness To learn more about how to improve your immunity this winter speak to our Nutritionist Diana located at the Surry Hills and Kingsford Clinics.