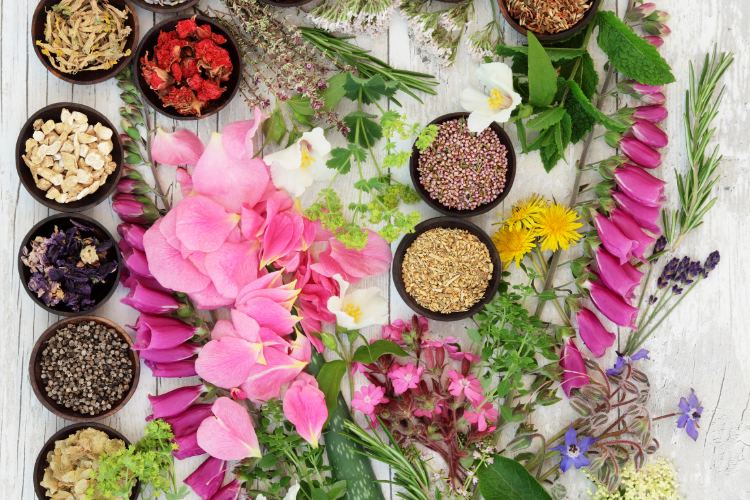 Herbal medicine is considered to be one of the most ancient forms of healing and can be very effective in treating many health conditions. However, as herbs can have potent effects and may interact with prescription and over-the-counter medicines, it is important to consult with a trained Herbalist or Naturopath before using herbal medicine.
Nutritionist Pamela Nelson at Health Space Lane Cove is a qualified Naturopath and Herbalist and frequently
recommends herbal medicine as part of a treatment protocol. Here she discusses the healing properties of three of her favourite herbs.
Schisandra
Herbal medicines have many actions. For example, Adaptogens are wonderful for helping the body adapt to physical, environmental, and emotional stress. Nervines strengthen and nourish the nervous system by both relaxing and energizing it, while Hepatic herbs can be both protective of and /or restorative to the liver.
Schisandra Chinensis (Schisandra) has adaptogenic, nervine, and hepatoprotective actions. It is wonderful for fatigue and debility, improving physical and mental performance, and to help protect and tone the liver. It is high in powerful antioxidants and it's benefits include helping to fight against free radical damage. This lowers inflammatory responses, combats stress, and improves circulation. Schisandra berries come from a vine native to China and parts of Russia. It is used in both Western Herbal and traditional Chinese medicine. I love using this herb.
Lemon Balm
Herbal sedatives can decrease nervous tension, may alleviate pain and assist in inducing sleep. Spasmolytic herbs can reduce or relieve smooth muscle spasms, while Carminatives may relieve flatulence as well as intestinal spasms and pain. Melissa officinalis (Lemon Balm) has carminative, mild sedative, and spasmolytic actions.
It is useful for assisting with anxiety, irritability, depression, neuralgia, migraine, insomnia, flatulence, dyspepsia, IBS, and more. It is also anti-viral when used topically and has been used successfully topically with the herpes virus. Lemon balm is a lemon-scented herb that comes from the same family as mint. While it is native to Europe, North Africa, and West Asia, it is grown around the world. It is such a versatile herb and a staple in most dispensaries.
Cleavers/Clivers
Depurative herbs improve detoxification and aid elimination thus reducing metabolic waste products in the body. They are also sometimes called alteratives or blood purifiers and are often used to treat chronic skin conditions and musculoskeletal disorders. Lymphatic herbs assist detoxification through their effects on lymphatic tissue and also improve immune function. Diuretic herbs increase urinary output, and/or increase the excretion of metabolic waste products.
Galium Aparine (Cleavers/Clivers) has depurative, lymphatic, and diuretic actions. It is wonderful for chronic skin disorders such as psoriasis, dermatitis and eczema, acne, disorders, rosacea, and also for lymphatic disorders such as inflamed or enlarged lymph glands. It is also useful for flushing and decongesting the kidneys and urinary system, treating cystitis, water retention, kidney stones, gout, and urinary problems. It is a sticky sprawling plant that spreads quickly and is quite invasive, often regarded by gardeners as a common weed.