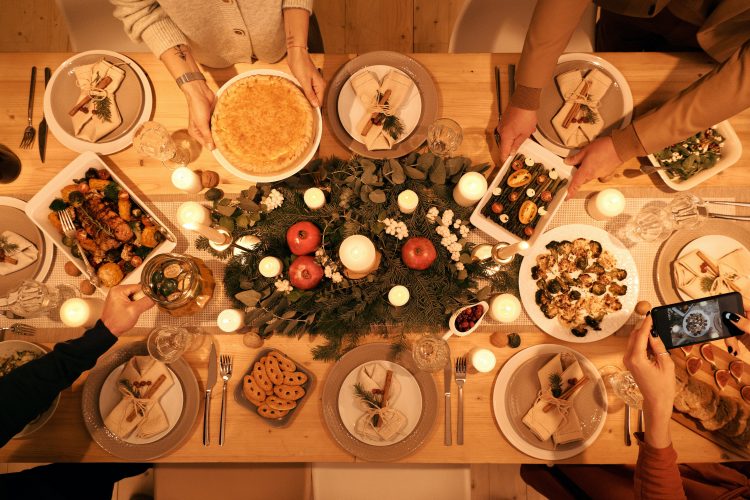 Work Christmas parties, catch-up lunches with friends, holiday feasts with the family- these are all the joyful parts of Christmas. But with all these festivities, we may find ourselves over-eating on sweet desserts and drinking more than we'd like. We can end up feeling bloated, fatigued and that we've lost all our progress to eating a healthy diet. With most things in life, we want to balance eating healthy and still enjoy the holiday season. Read on for our top tips on staying healthy during the holiday season.
1. Set healthy habits
Start your day with a healthy morning routine and incorporate rituals such as journaling, taking a short walk, and starting the day off with a healthy breakfast. By getting your day off to a good start, you're more likely to continue with health-promoting choices. Some examples of healthy breakfasts include vegetable-based omelettes, protein smoothies and chia pudding.
2. Don't go in hungry
Whilst it may be tempting to skip meals before parties, this will often lead us to overeat later. Skipping meals causes our blood sugar levels to become imbalanced, leading us to feel 'hangry' and turn into the cookie monster. Instead, ensure that you are eating well-balanced meals throughout the day and consuming a small snack before eating out so that you don't end up acting like the Grinch during Christmas dinner.
3. Manage your stress
Whilst holidays are a joyful time, they can also be incredibly stressful! Organising gifts, endless social engagements and packed calendars can add stress. Ensure that you are taking care of your mental health by taking some time out to journal, exercise or meditate.
4. Hydration
Adequate hydration helps support our body's detoxification processes, support digestion and prevent over-eating. Drinking enough water is especially important during the holiday season as we're often drinking more than usual and eating foods that are high in sodium.
Lastly, enjoy the moment. The connections and memories we make during the holidays will last a lifetime. Eating a little too much Christmas pudding is normal and feeling like a stuffed turkey on Christmas day isn't something to feel guilty about- you're only human after all! A few days of eating more 'soul' foods is unlikely to have long term effects on our health.