As the seasons change so do the fruits and vegetables that are available.  Adapting your diet and eating seasonally has lots of health benefits:
Supporting your immune health
Winter foods provide an increased amount of immune boosting vitamins such as Vitamin C and Vitamin A which naturally help our bodies to fight off colds, flu and other viruses.  Choose foods such as citrus fruits, kiwi fruit, sweet potato, pumpkin, capsicum to capitalise on these immune boosting benefits.
Cost effective
Food which is in season is much more affordable so has a benefit on your weekly budget.  Look for produce that is grown in Australia or better yet shop at a Farmers market to ensure ultimate freshness and quality.    By shopping at the markets you are guaranteed that the food you are purchasing is seasonal as many supermarkets import foods making most produce is available all year round.
Taste
Fresh food just simply tastes better.  Food is an important part of our everyday lives and contributes significantly to our health and vitality.  Foods that are fresh and in season are full of flavour and contain more nutrients.
What's in season now?
The following list includes fruit, vegetables and spices that are in season in Autumn in Australia.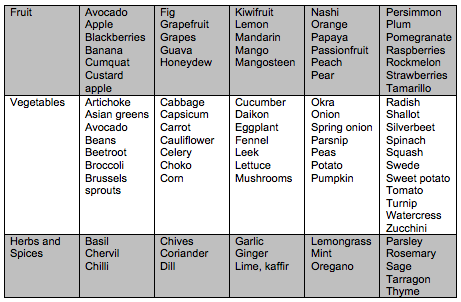 One of my favourite things in winter is a bowl of delicious soup.  The recipe below is one of my favourites.  Its full of seasonal vegetables and spices that really warm you from the inside out.
Bonus recipe: Roasted cauliflower, fennel and ginger soup
Ingredients
1 red onion quartered
4 garlic cloves
½ head large cauliflower (cut into florets)
2 fennel bulbs chopped and cored
500g organic broth (chicken, beef or vegetable)
3 tbs hummus (I like the Arlington brand if I'm not making it myself)
1 tsp turmeric and pinch cinnamon and black pepper
1 tsp sage leaves
A pinch fennel seeds
2 tbs tamari
2 tbs lemon
1 knob ginger (peeled)
Method
Preheat oven to 200 degrees Celsius
On a baking tray place red onion, garlic cloves, cauliflower and the fennel.
Bake for 30-35 minutes until crispy.
Remove from the oven and place in a blender with remaining ingredients.
Blend until creamy.
Pour into heavy bottomed saucepan and place on stovetop.
Heat through on low to allow flavours to meld.
Season to taste.
Let cool slightly and serve warm.
Decorate with fennel fronds.