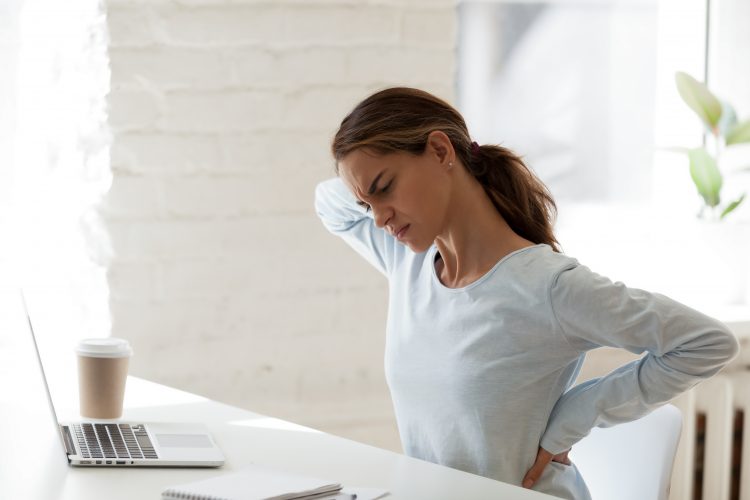 As a massage therapist I have helped a lot of people over the last few months managing their pain related to working from home.
It has been clear that many people not only don't have the proper work environment set up at home, but are also staying in the one position, slouched over a coffee table working on their laptop for hours on end.
With that said it is has come as no surprise that I have also helped more and more people recover and self-manage their neck and upper back pain.
Working with my clients, presenting with various different musculoskeletal conditions, it has been very clear, along with supporting literature, that massage therapy helps with:
– Stress relief
– Stress can be both physical and mental, massage is a great way to trigger a relaxation response helping to alleviate muscle tension which in turn alleviates stress in the mind.
– Easing muscle tension
– The application of different techniques like frictions and pétrissage work to increase soft tissue temperature, removal of waste products and increases the release of beneficial healing hormones.
– Decrease pain.
– Whether the cause of pain is injury, trauma or overuse it causes receptors to send pain signals to the brain where it passes to the nerves causing that pain sensation. Massage aims to reduce pain by disturbing the pain signals and providing a new signal.
As a massage therapist with a background in sports science, we know that a massage can help people as mentioned above, however further to this I like to help my clients with teaching them how to manage from home.
The top three tips I can share with you all today to reduce these postural related concerns are:
1. Have a designated workspace with appropriate screen and chair set up.
– Screen height should be set at eye level.
– Wrists straight and supported at elbow level.
– Adjust chair height so knees and hips are level, foot stools can be helpful with this.
2. Move more
Every one hour of sitting I recommend at least 5 minutes of standing or moving. Standing desks are a great way to incorporate standing into your working hours. A quick walk around the block, a few repetitions of the stairs or completing the suggested stretches.
3. Exercise and stretch though out the week to counterbalance that sustained posture. When working extended hours at a desk it is very common to fall into a slouched posture and your head to shift forward.
Throughout the treatment an assessment of your muscles, weaknesses and tightness are found, this allows for specific exercises and stretches to be given that will benefit you the most.
—
Lucy is a certificate IV certified massage therapist who is in training to receive her Diploma of Remedial Massage.
Lucy has a certificate III in fitness and advance taping which she hopes to use in conjunction with her Diploma when working with a professional sports team in the future.
You can find Lucy at our Kingsford location on Monday, Tuesday, Friday and Saturday. Please call our clinic on (02) 9663 2151 to book in with Lucy.