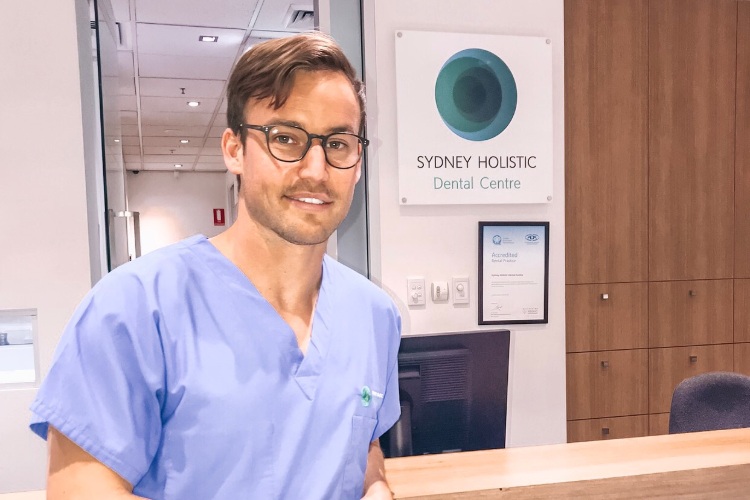 What made you decide to be a dentist and what do you love most about the job?
I probably wouldn't have thought to be a dentist if it wasn't in my family. Luckily, my father and uncle are dentists and they started the Sydney Holistic Dental Centre in the early 1980s. This certainly played a big role in my decision to become a dentist. The part of the job that I enjoy the most is getting to know my patients. Because, people come in to see me around twice a year, you really get to know people really well.
How does holistic dentistry differ from 'standard' dentistry?
In terms of day to day procedures, there is little difference. But what we do is spend a lot of time with our patients educating them on how their oral health affects their general health. Not only do we do routine dental procedures, we also look into and treat sleeping and breathing issues, headaches, neck aches and jaw aches and offer nutritional and general health advice.
Tell us a bit about your podcast "Mouthing Off with Dr Lewis Ehrlich"?
Mouthing off with Dr Lewis Ehrlich is all about interviewing health and wellness experts to make living a healthy, holistic lifestyle that little bit easier. We are bombarded by conflicting information that makes us all confused. In this podcast, I break down these barriers by extracting unbiased, practical health tips, routines and habits from people in the know. You will be inspired by the guest's personal stories and their journey into health and wellness.
Who/What has been the most interesting podcast you have done so far?
That's a tough one. They have all been interesting in their own way. I have been fortunate to interview doctors, dentists, pain specialists, chiropractors, life guards, thyroid, diabetes, and movement and lifestyle experts. There is always something to learn!
What are your 4 best health tips?
Prioritise your sleep – this means going to bed early, getting electronics out of your room, turning your wifi off, and going to bed at the same every night.
Eat natural, unprocessed food.
Get active every day.
Prioritise your oral health!
What is your personal oral health routine?
I floss every night, I brush twice a day, I get my mouth checked and cleaned twice a year, I stay hydrated, I eat natural, unprocessed foods and I breathe through my nose. All a very important aspects of maintaining a healthy mouth.
What type of exercise do you do?
As a dentist there is a lot of stress on my neck and spine. This is the case for any office worker or health professional. So, I do a lot of gymnastic/calisthenics/body weight mobility training. I also do some pilates and when my body is feeling good, I do some sprint training. I also try to walk every day.
What advice would you offer someone who hasn't been to the dentist in a while and has hesitation about going?
Being proactive rather than reactive is much better when it comes to your dental health. The vast majority of dental problems don't cause any pain until it is far too late. People use the absence of pain as the marker of good dental health but keeping your gums and teeth healthy is more than being pain-free. Also, dentistry has come along way and it is now a comfortable experience that shouldn't be feared.